The Vatican Library's digital portal expanded this week to take in three new classes of document:
— Digita Vaticana (@DigitaVaticana) May 2, 2018
This takes the number of classes to seven. The
manuscripts
and
incunabula
(pre-1500 printed books) are the central treasures. The current total of manuscripts online is 15,970 items out of a total of more than 80,000. The
inventories
are the handwritten catalog books from the Library reading room, 270 of them, which are quite difficult to use. The
archives
is a collection of deeds and similar documents held by the Library proper, not in the Vatican Secret Archives. The latter four have been present online for some time.
The three new collections this week are the "Visual Materials", the "Printed Materials - Special Projects" (
Materiali grafici e oggetti d'arte
), and "Coins and Medals". The visual materials seem to be what an English library would call ephemera, mainly printed pamphlets or broadsheets (some scanned at dreadfully low resolution). An example is Stampe.I.96 showing St Peter's in 1655:
The distinction from "
materiali grafici"
is not quite clear to me, but as far as I can see these are single photographs of stamps and engravings found in books, presumably post 1500. At the moment this seems quite limited in scope.
The medals are fairly well scanned, though there does not seem to be sufficient post-processing to reduce glare. The 1506 (or 1512) item below by the engraver Cristoforo Foppa shows too much light on the shepherd's right thigh (this shepherd represents Pope Julius II as a caring ruler):
I am not planning to monitor these three new classes, as they are both non-medieval and of narrower interest than the manuscripts.
More may emerge about where the digitization program is heading later this month when the Vatican Library is hosting a one-day conference. You
can invite yourself
on Eventbrite, and it is free. The occasion is the completion of a 2012-17 project by the Polonsky Foundation to fund the digitization of key treasures.
Luminaries speaking include Anthony Grafton (
@scaliger
) and top librarians including Emma Stanford (
@e_stanf
) and Jill Cousins (
@JilCos
) from Europe. It's certain to be a love-feast, though I don't see Europe's one other mega digitizer,
Gallica
, attending.
I would love to attend, but regret that I cannot go for health reasons. I would love it if any eager reader could attend as a reporter and blog and tweet about the presentations!
Another multi-million dollar project that has just been completed without a stumble is the Bibliotheca Palatina digitization. The
press release
flags an official ceremony on February 15 in Germany with Manfred Lautenschläger, the German millionaire who generously stumped up the cost of scanning the 3,000 Latin codices, and at the ceremony
urged wealthy people
to imitate his giving.
The digitization restores to Germany in virtual form a precious library that was spirited away from Heidelberg 400 years ago. This pioneering work, which was managed by Heidelberg University Library, benefited the wider Vatican project too, because the Germans set up a proper digitization studio at the Library in Rome and developed basic technical standards which are still in use.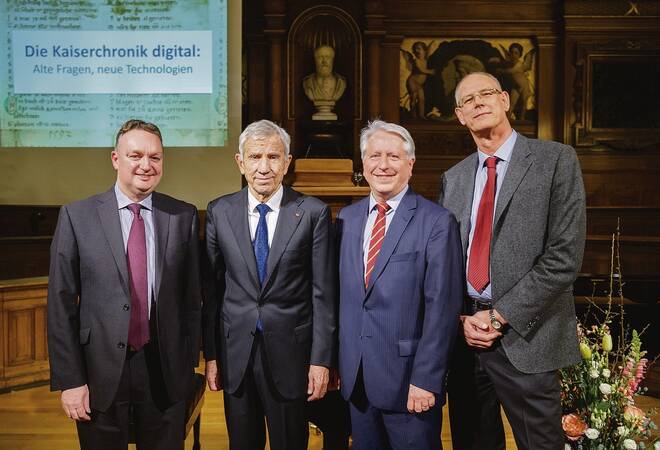 The
Rhein-Neckar Zeitung news report
says the work got into high gear once the Vatican Library provided a second studio, but quotes Heidelberg chief librarian Veit Probst saying 402 Greek, 430 Hebrew and maybe several hundred unidentified Oriental manuscripts originally from Heidelberg still need to be digitized.
Now that two major funders have completed their projects, the big question now is: who is going to step up with a few million euros to sustain the digitization of the remaining 60,000 manuscripts.